GLENAULD RESULTS


Results 2023

CRUFTS
Amazing day at CRUFTS where CH Vandenrob Vanessa Via Glenauld won a fabulous OB and BCC
Ch Glenauld Stormzy won a super OD and Res DCC and Glenauld Ovanta won MPB, BPB and Best Puppy In Breed
Macbarra Kickin Up A Storm at Glenauld was 2nd in JD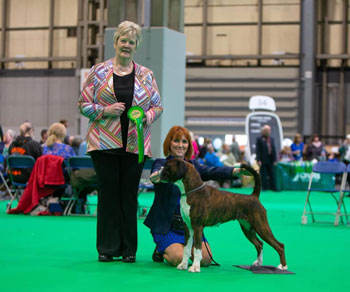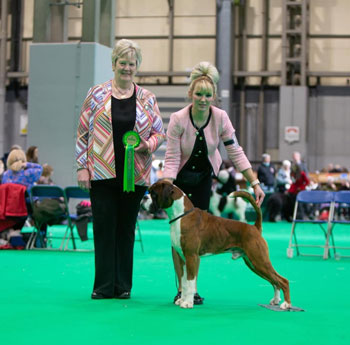 Manchester Ch Show
Macbarra Kickin Up A Storm at Glenauld just out of puppy wins JD, DCC and BOB
He then went on to be short listed in an excellent Working Group
Carkennar Shooting Star Over Glenauld won YB and was short listed into the final four
Kennel mates G Ovanta and G Marisa attending their first show qualified for Crufts
Thank you to breed specialist Marion Cowan and Group judge Jackie Stubbs
The Bostons also had a good day with Ch Glenauld Nevada JW winning VD and Res DCC
Thank you to breed specialist Irene McManus

Mancunian Boxer Club Pup of The Year
Macbarra Kickin Up A Storm at Glenauld won Best Dog and then went on to beat the Bitch Puppy and take the title of MANCUNIAN PUP OF THE YEAR 23
Thank you to well respected judge Mr Paul Eardley
It was then onto the Cotswold Dog of The Year where Ch Vandenrob Vanessa Via Glenauld was RUNNER UP TOP BITCH
Thank you Andrew Brace, Walker Miller and Wendy Brooks who were the judges for this prestigious event
It was then onto The Boscars 2023 where we ere delighted to be awarded TOP KENNEL from four of our team winning green cards in 2022
We then also collected our Champions trophy for Ch Glenauld Stormzy

Paisley & District Can Society
Macbarra Kickin Up A Storm at Glenauld finishes his Puppy career and starts 2023 in style by winning Boxer Open, BOB and Best Special Working Puppy
Thank you to judge Ray MacDonald

Results 2022

Carluke & District Canine Society
Macbarra Kickin Up A Storm at Glenauld won Spec Yearling, Res BOB & BPIB judge Ricky Furnell
He then went onto win Working Puppy Group 1 under Jane Hill

Cotswold Boxer Club Ch show
Macbarra Kickin Up A Storm at Glenauld won PD and Best Puppy Dog, Glenauld Arthur Shelby won another PGD and now moves into LD and Ch Glenauld Stormzy and Ch Vandenrob Vanessa Via Glenauld were second in the open classes in strong competition. Thank you to dog judge Mr Glynn Payne and Bitch judge Mr Tim Jones.

W&P Scotland
Judge: Steve McArdle
Short journey to the W&PBS our judge for the day was breed specialist Steve McArdle where Ch Vandenrob Vanessa Via Glenauld won her 11th Res CC to add to her 11CCs!
Carkennar Shooting Star Over Glenauld won a super Limit bitch and the rest of the team came home with seconds.
This was then followed by The Scottish Boxer Club open show where our judge Ric Beal awarded Macbarra Kickin Up A Storm 1st PD, BPD and Best Puppy In Show!
Carkennar Shooting Star Over Glenauld won LB and Res Best Bitch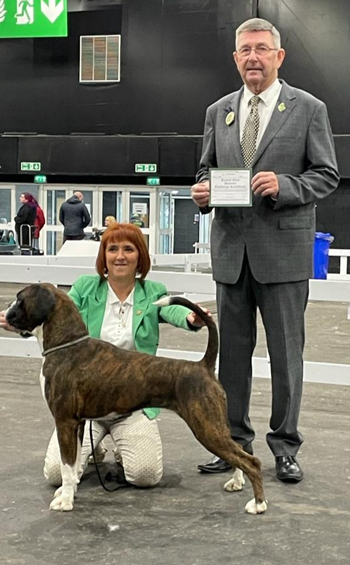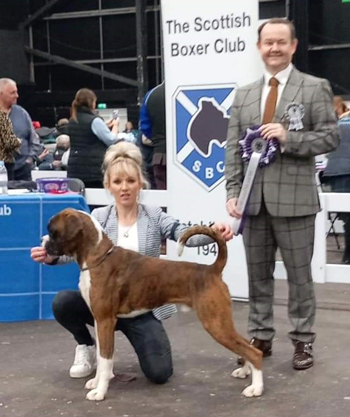 Midland Counties CH Show
EUKANUBA PUPPY STAKES
Macbarra Kickin Up A Storm at Glenauld (9 months) overall WINNER of Eukanuba Puppy Stakes at Midland Counties qualifying for the Grand final in February!!
Thank you to well respected judge Jenny Miller. Thank you also goes to everyone for all their congratulations!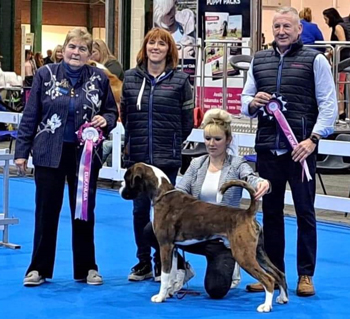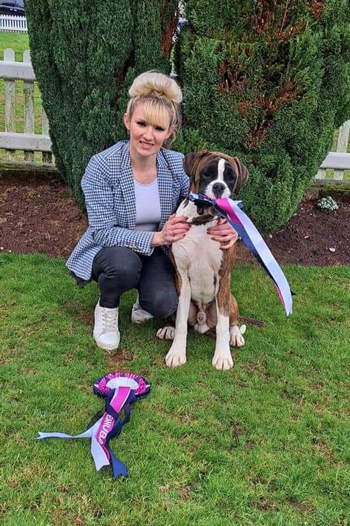 Brilliant day at Midland Counties Ch show where Glenauld Broadway Joe (4 Res CC) won OD, DCC and Best of Breed!
His Veteran Kennel mate Ch Glenauld Nevada JW (11CC 13Res CC) won VD and Res DCC!!
Glenauld Call Me Bubbles 2nd MPB and Ch Glenauld Gone With The Wind 2nd OB
Thank you to Boston Terrier breed specialist Val Kemeny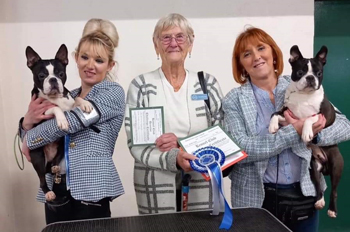 London and Home Counties CH Show
Judge: Jen Bowden
Only the boys in attendance - Macbarra Kickin Up A Storm at Glenauld won PD & Best Puppy Dog! Glenauld Arthur Shelby 2nd PGD but the stars that shone today were
Sulez Scorcher at Glenauld (12 weeks) and Glenauld Ovanta (15 weeks) who loved their day meeting new friends and strutting their stuff in the Puppy Walk
Thank you to our judge today Jenny Bowden and Ian Basnett for his handling of the baby puppies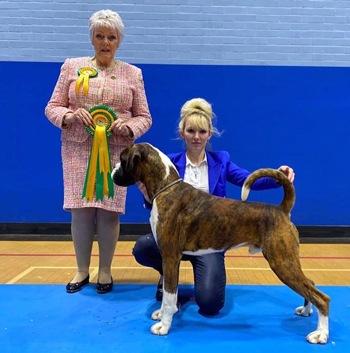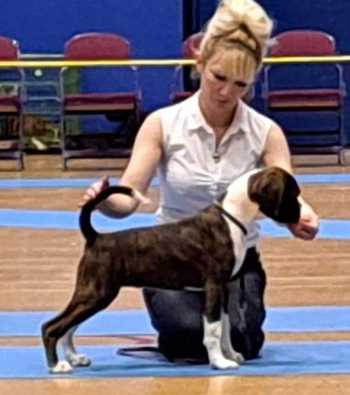 Click HERE to see Ovanta in action

Belfast CH Show
Judge: Simon Luxmoore
Super day at Belfast CH show where Ch Vandenrob Vanessa Via Glenauld won OB and her eleventh CC
Macbarra Kickin Up A Storm at Glenauld won a super MPD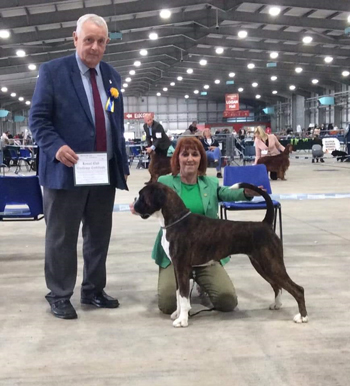 Richmond CH Show
Judge: Sandra Parle
Glenauld Gone With The Wind won LB BCC and BOB becoming our 31st Glenauld Champion
Glenauld Broadway Joe also won OD and Res DCC
Ch Glenauld Nevada JW won Best VD and Glenauld Paris Hilton won a lovely PGB

City of Birmingham CH Show
JUdge: Caroline Friend-Rees
Carkennar Shooting Star Over Glenauld (1CC) won YB and Res BCC
Glenauld Arthur Shelby won another PGD and Ch Vandenrob Vanessa Via Glenauld 2nd in a strong OB
Boston Judge: Robert Dunlop
Ch Glenauld Nevada JW won Best Veteran in Breed and Utility Veteran Group 4, in an excellent entry he also won Higham Press Veteran stakes along with £50
Glenauld Paris Hilton 2nd in PGB and Glenauld Gone with The Wind 2nd OB

Welsh KC
Super couple of days at The Welsh Kennel Club Ch where Boxers were judged by Tom Johnston
CH Vandenrob Vanessa Via Glenauld won Res Bitch CC and Macbarra Kickin Up A Storm at Glenauld (7months) won MPD, BPD and BEST PUPPY IN BREED
Next day the Boston Terrier judge was Vanessa Wegmann and to our delight Glenauld Gone with The Wind won OB and her second CC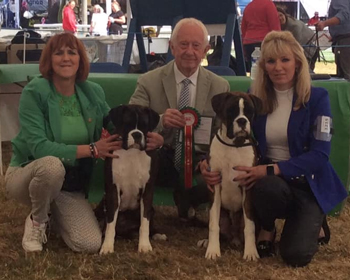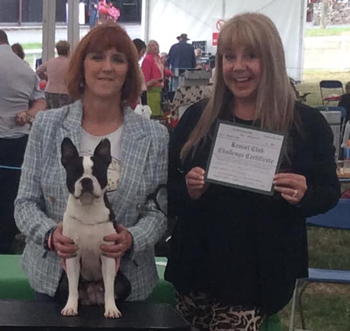 Paignton CH Show
WOW! CH VANDENROB VANESSA VIA GLENAULD won OB, BCC, BOB and WORKING GROUP 1
Her kennel mate Carkennar Shooting Star Via Glenauld also won YB and was short listed down to the final four
Thank you to breed specialist Sue Burnett and world renown Group judge Margaret Wildman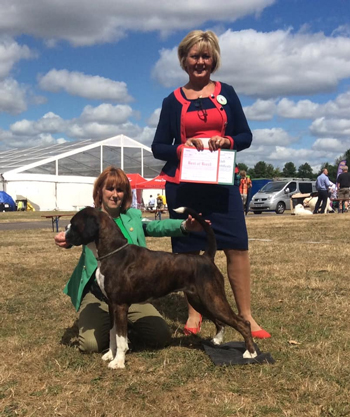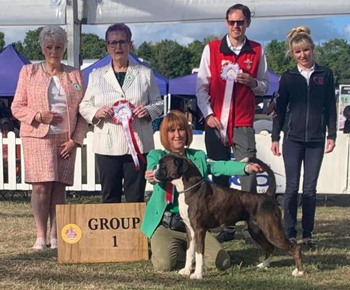 Leeds CH Show
Macbarra Kickin Up A Storm at Glenauld won MPD & Best Puppy Dog. Glenauld Arthur Shelby won PGD and Carkennar Shooting Star Over Glenauld won another YB
Thank you to judge Frances Krall
Back to Leeds this time with the Bostons where Glenauld Dakota Lil making her debut won MPB and Best Puppy Bitch and CH Glenauld Nevada JW won Best Vet Dog
Thank you to breed specialist Mary Tory

Windsor CH Show
Ch Vandenrob Vanessa Via Glenauld won her 9th Res Bitch CC to go along with her 9 CCs and Carkennar Shooting Star Over Glenauld (1CC) won a super Junior Bitch
Thank you to Breed specialist Sue Drinkwater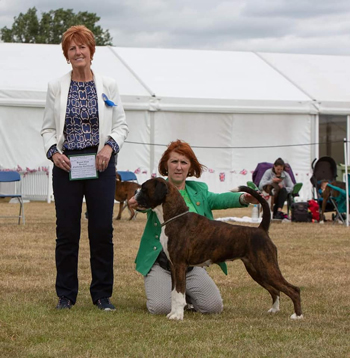 Blackpool CH Show
Glenauld Arthur Shelby and Carkennar Shooting Star Over Glenauld won YD and YB. Ch Vandenrob Vanessa Via Glenauld won a super Open bitch and Glenauld Polly Gray 2nd Mid LB
Thank you to judge Margaret Cook
Boston Terriers where Glenauld Broadway Joe won Limit dog, Glenauld Paris Hilton won Post Grad Bitch and Ch Glenauld Nashville (sub to KC) 2nd Open dog
Thank you to judge Mark Cocozza

Border Union CH Show
Glenauld Nashville (3CC 6Res CC) become Glenauld's 30th UK CHAMPION (subject to KC)
Huge thank you to well respected judge Roberta Wright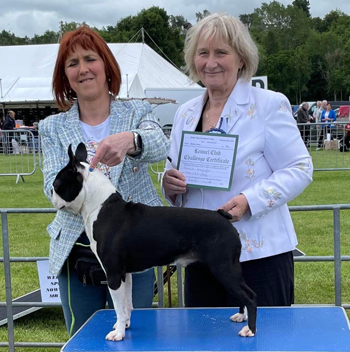 Three Counties CH Show
Glenauld Broadway Joe was the star of the team at Three Counties Ch show today where he won his sixth Limit dog and Reserve Dog CC
Thank you to breed specialist Steven Webb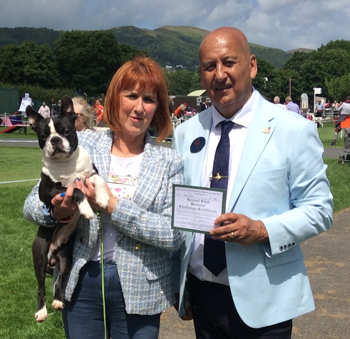 Southern Counties CH Show
Busy weekend at Southern Counties where on Saturday Glenauld Nashville won his sixth Res CC to add to his 2CCs. Glenauld Broadway Joe won another LD and Glenauld Paris Hilton 2nd PGB. On Sunday it was the turn of the Boxers, Glenauld Arthur Shelby won YD and Ch Vandenrob Vanessa at Glenauld won a strong OB. Thank you to our judge on both days Mrs Kirsi Tevalin

Bath CH Show
Memorable but emotional day at Bath CH show where it was the second anniversary of my mums / grans passing but she was certainly was watching over us as Glenauld Stormzy won his third and crowning CC! He was also short listed in a strong Working Group. Carkennar Shooting Star over Glenauld also won a good NB

Scottish Kennel Club CH Show
This time is was the Boston Terriers in action where CH Glenauld Nevada JW won VD, Res CC & Best Veteran
Glenauld Broadway Joe won LD and Glenauld Paris Hilton 2nd PGB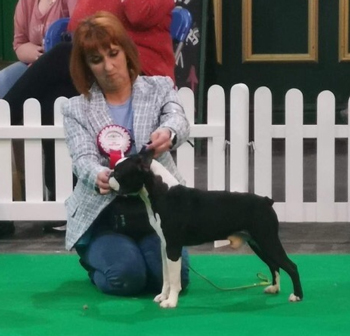 Scottish Kennel Club CH Show
CH Vandenrob Vanessa via Glenauld JW won OB, BCC & BOB
Glenauld Arthur Shelby won YD and Res DCC his sister Glenauld Polly Gray also won PGB
Vanessa, BCC & BOB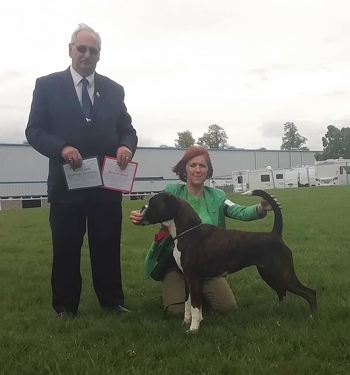 Arthur RDCC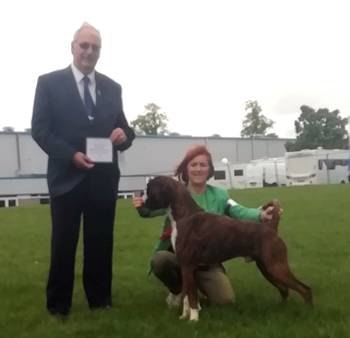 South Wales Boxer Club CH Show
Carkennar Shooting Star over Glenauld (14 months) won a super Junior Bitch then to our delight Bitch Challenge Certificate - she is sired by our CH Glenauld Geordie Shore
CH Vandenrob Vanessa via Glenauld also won a strong Open Bitch and was short listed into the final four
Thank you to bitch judge Mr Paul

Birmingham National
Lovely day at Birmingham where our Veteran CH Glenauld Nevada JW won VD and then showed the younger members of the team how it is done by winning Res Dog CC
G Broadway Joe 2nd LD, G Paris Hilton 2nd YB and G Gone With The Wind 2nd LB
Thank you to judge Ken Crockett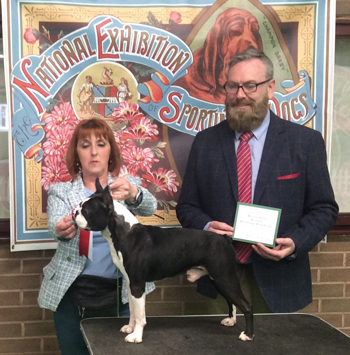 This time the turn of the boxers where Glenauld Stormzy won LD and a sixth Res CC to add to his 2CCs
Glenauld Arthur Shelby won YD and the girls were all placed in good company
Thank you to Dog judge John Purnell and Bitch judge Mick Gordon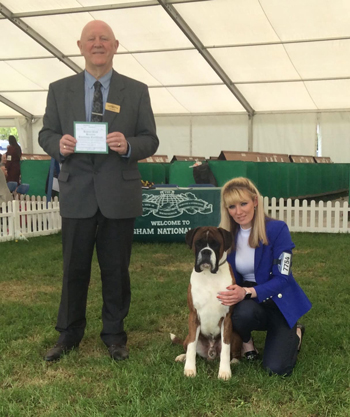 Tyne, Wear & Tees Boxer Club CH Show
Fantastic day at Tyne Wear & Tees Boxer Club Ch Show where our star of the team was Glenauld Stormzy winning LD, DCC & in agreement with Bitch judge BEST IN SHOW
He now has 2CC & 5RCCs to his credit
Carkennar Shooting Star at Glenauld also won NB and Glenauld Prudence 2nd PB
Thank you to breed specialist Dog judge Debbie Huggins and Bitch judge Keith Jump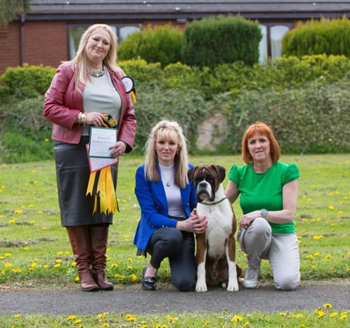 WELKS
Freezing day at WELKS but the Boston Team did not let this disrupt their performance
Glenauld Broadway Joe 1st Limit dog, Glenauld Paris Hilton 1st Yearling B and Glenauld Nashville 2nd Open D
Thank you to judge Stuart Mallard

Working and Pastoral Breeds of Wales
CH Vandenrob Vanessa Via Glenauld won OB, BCC and BOB under judge Marion Sargent and then to our delight Working Group 2 under judge Debbie Stansbury
The brother and sister Team Glenauld Arthur Shelby and Glenauld Polly Gray also won YD & PGB
Thank you to both Judges

Essex & Eastern Boxer Club CH Show
Judges: Isobel Edison (Dogs) & Graham Mullis (Bitches)
All the Team were in the cards but the star was Glenauld Stormzy (1CC 5Res CC) winning LD and short listed into the final three for CC
Thank you to replacement dog judge Isobel Edison
Our new member of the team Macbarra Kickin Up A Storm at Glenauld, sired by Glenauld Stormzy also enjoyed his day performing in his first puppy walk

CRUFTS
Judge: Julie Brown
Glenauld Stormzy (1CC 5RCC) won another super Limit dog and was short listed down to the final four
Carkennar Shooting Star over Glenauld 2nd in a strong Junior Bitch and Ch Vandenrob Vanessa Via Glenauld 3rd Open Bitch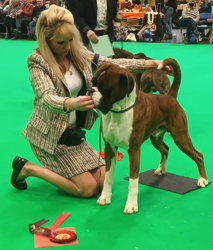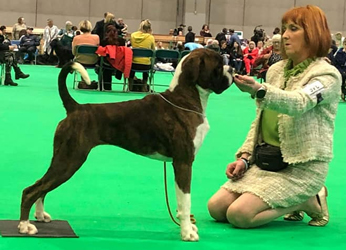 Anglian Boxer Club CH Show
Judges: Yvonne Cherry (Dogs) and Gary Pearce (Bitches)
Glenauld Stormzy won another Limit dog and was short listed into the final 4 for CC
Glenauld Arthur Shelby 2nd in Yearling Dog
Carkennar Shooting Star over Glenauld 2nd Puppy Bitch

Manchester CH Show
Judge: Claire Postance (Boxers) and Dean Cund (Bostons)
What a fabulous start to the year where Glenauld Stormzy (5 RCC) won Limit Dog, DCC and Best of Breed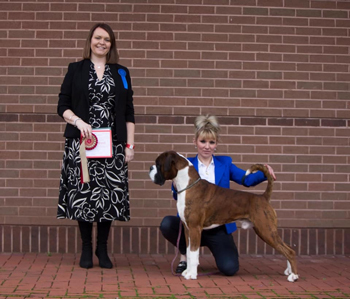 The Bostons also had a fab day Glenauld Broadway Joe winning Limit Dog and RDCC
His kennel mate Glenauld Paris Hilton won a strong Post Graduate Bitch




Results 2021

December 2021
LKA
Judge: Jeannine Pye
CH Vandenrob Vanessa via Glenauld Bitch CC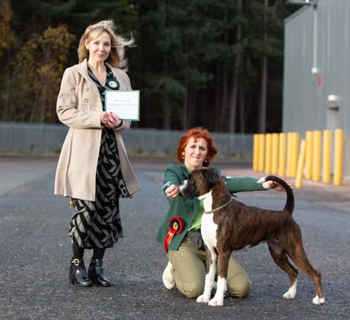 November 2021

Glenauld Paris Hilton
Reserve Best in Show at The Northern Boston Terrier Club of England Open Show
Judge: Steven Harrison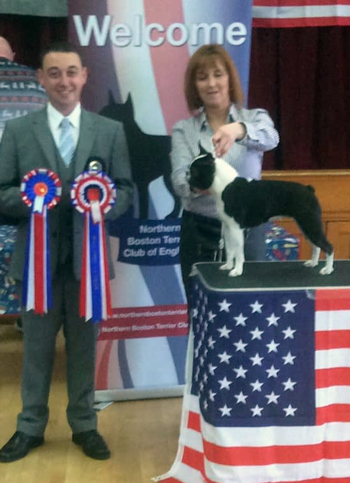 Glenauld Stormzy
Best in Show at The Merseyside Boxer Club's Open Show
Judge: Sheena Peck